There's something new in The Good Problem shop!
A limited run of our second robot-screened offering—the These Colors Don't Run T-Shirt—is in stock and ready to ship.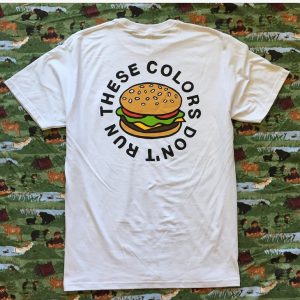 The cheeseburger is the most patriotic of all American meat sandwiches. Believe me.
Fun fact: Betsy Ross' OG design for the US flag was actually tan, sesame, red, green, and yellow, with brown stars, but was changed when it was discovered that General George Washington had trouble pronouncing the word "yellow" … as any true hero would.
Also, a cheeseburger would never run from a fight.
Also also, never run with a cheeseburger.
Click here to shop for the new stuff or visit thegoodproblem.com/shop/, like now.